Preamp Crunch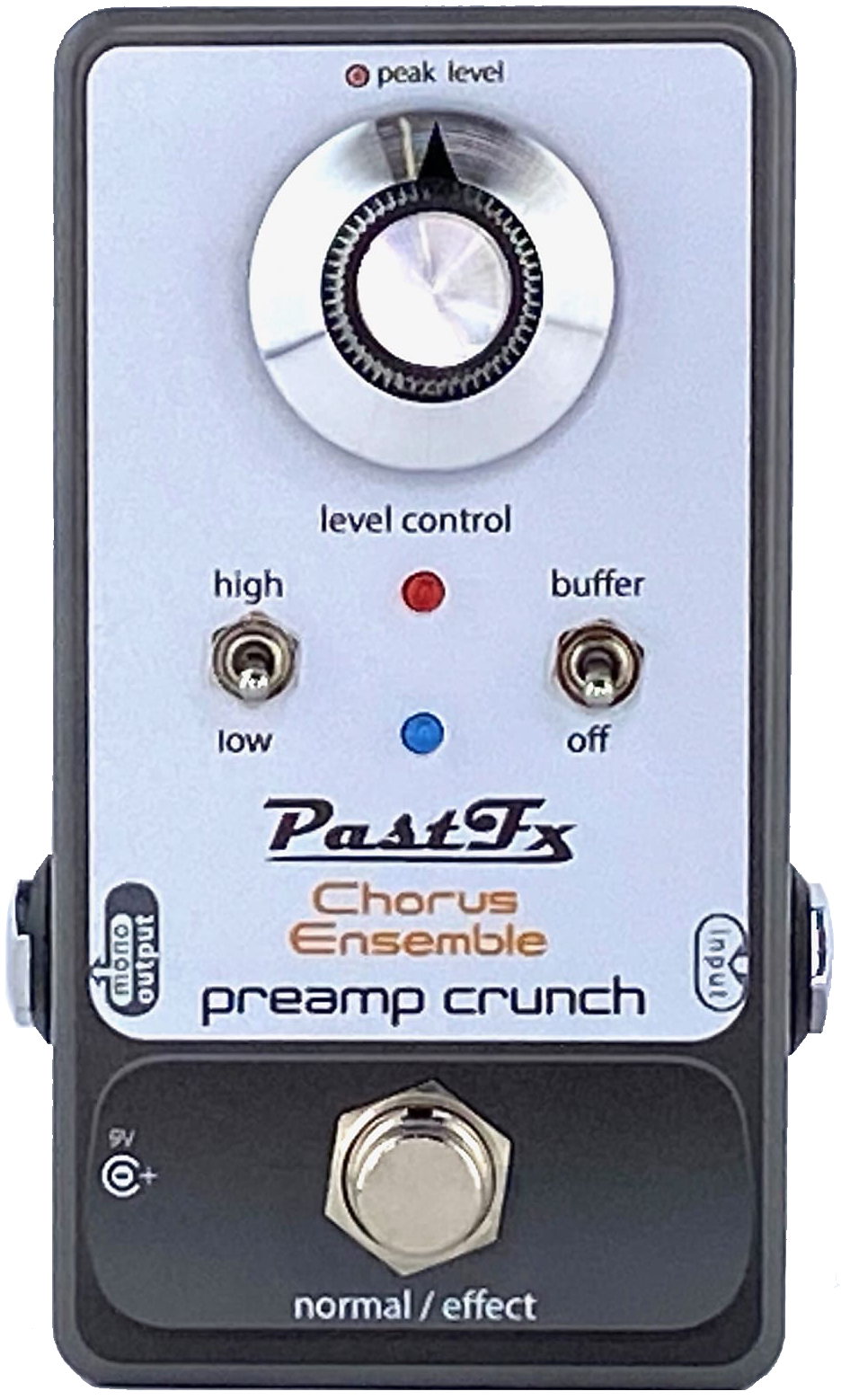 EU/UK customers only!
Please select your preferred online market place below.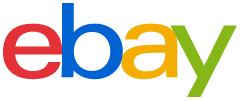 A stand-alone, isolated preamp circuit from the PastFx Chorus Ensemble, providing the famous colour, tone, and grit that typifies the effect's underlying character.
Debit or Credit Card
Payment Available

What is it?
The PastFx Chorus Ensemble Preamp Crunch is the most faithful recreation of the The BOSS® CE-1's preamp.
The Preamp Crunch came about after many requests to have the bypass channel of The BOSS® CE-1 in a stand-alone unit.
The Preamp Crunch cuts no corners in its design. It is the only recreation of The BOSS® CE-1's preamp which has the correct internal voltages, exact peak level LED indicator circuit, and as a bonus a buffer circuit which can be added or removed as desired.
The Preamp Crunch requires no fuses and is not powered by mains voltage. With today's advancements in technology, the Preamp Crunch operates off the same bipolar voltages as The BOSS® CE-1, however it only requires standard 9vdc pedal power supply.It can also be powered by a 9v Battery!
Features
Level Control

Correct Internal bipolar voltages +/- 14v & 13v

Same unique Preamp stage

Normal / effect footswitch

True Bypass

Red

LED Peak Level Indicator visual feedback of input sensitivity

Blue

effect on LED indicator

High / Low Input sensitivity changeover switch

operates off industry standard (9VDC negative tip 2.1mm )

9V Battery powering option now available! (Not included)
Buffer Circuit
Many owners of the BOSS® CE-1 noticed that when selecting the high on the input sensitivity switch that some of the high frequencies of their signal was lost. This was a desirable outcome for some. To remedy this, some users would place a buffer before the BOSS® CE-1 to restore the high frequencies. The Preamp Crunch comes with an inbuilt buffer circuit which can be added or removed as desired.
Note: When clipping the signal heavily by having the Level control on high, it can give various responses based on
what type of amplifier is used. On some amps it can almost sound like a fuzz, and on others a more traditional crunch sound! This is the same experience with the original.
When the level control and Input sensitivity switch are on high settings, having the buffer activated may increase unwanted noise.
Adjust to taste.
Dimensions : 112 x 60 x 53mm (1590B style enclosure)
Current draw approx : 55MA
---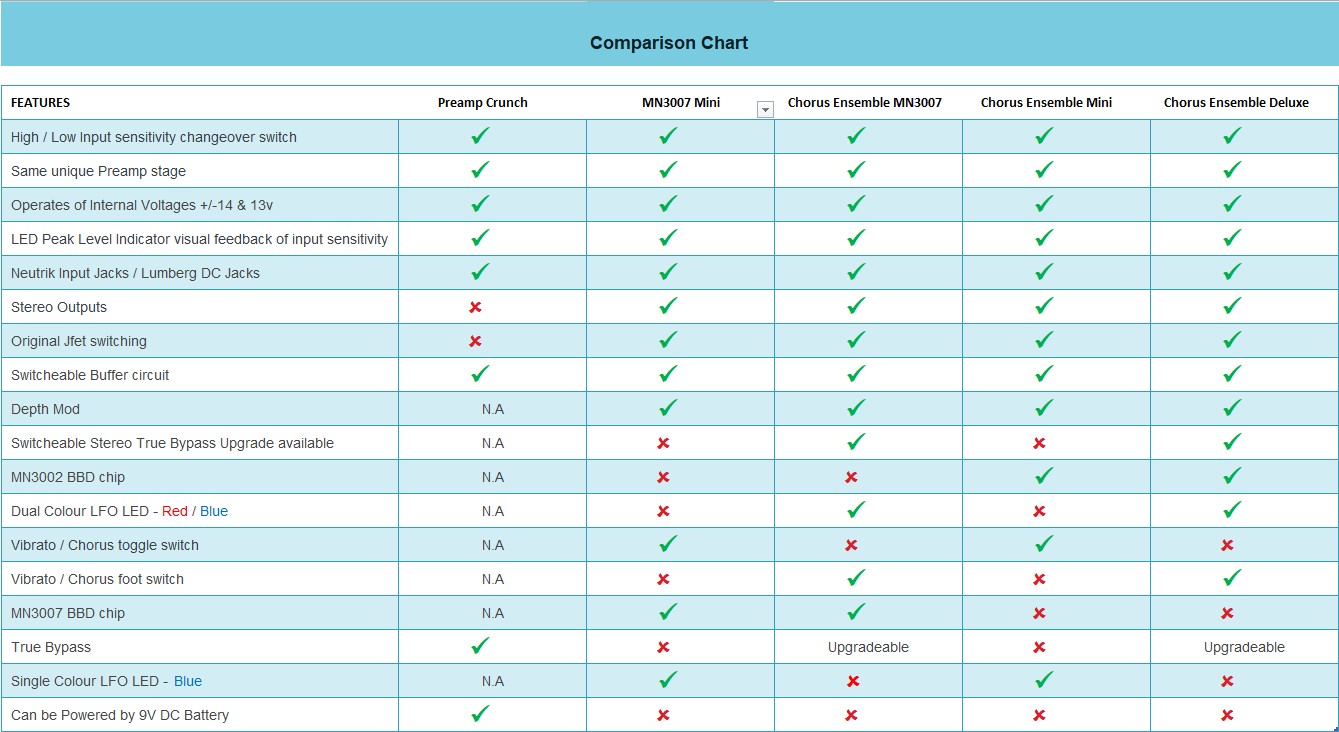 ---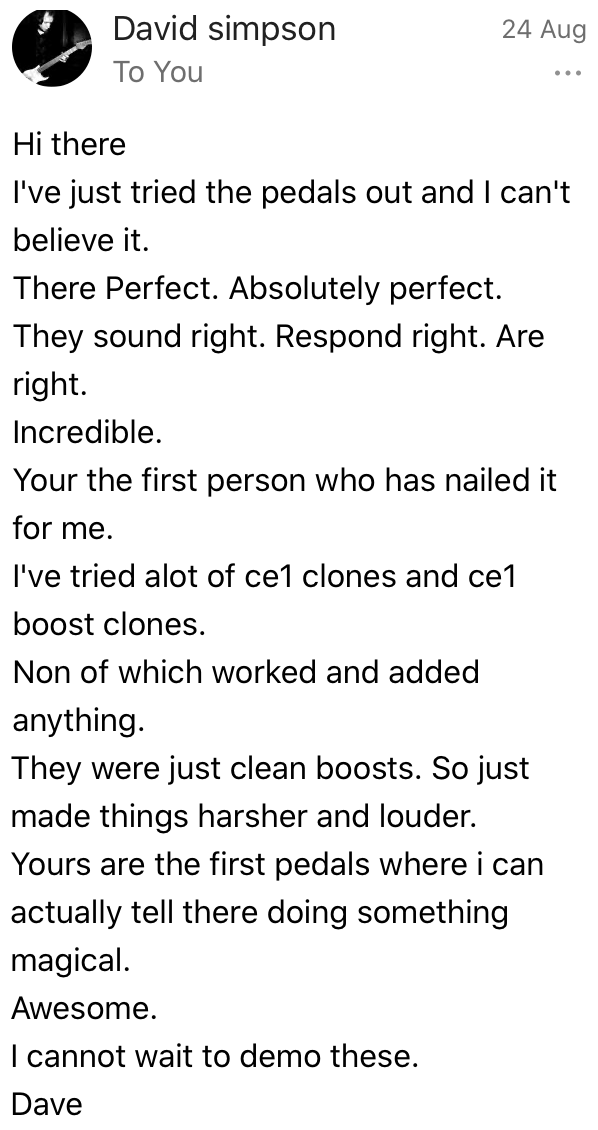 Reviews:
Hi PastFx,
this is Philipp from Munich. The Preamp just arrived.....

Unfortunately, I'm old and my body doesn't take my job as a hobby football goalkeeper as well anymore. My middle finger capsule is ****... no guitar for me for at least 2 weeks.

But..... I had to test it even with two fingers.
Mate, unbelievable!!! That sound... I was searching for it for 2 years now!! I had a nice silver jubilee setup in my Kemper and the XXXXXXXXX XXX Ce1 crunch in front. I never got it right.

I just replaced the XXXXXXXXX XXX one with yours and... Magic!! I always thought my ears are just bad and I can't setup the amp correctly. But it is setup exactly as I want it!!
Your pedal is the magic sauce. SOOOOO GOOD!!

Now I need a second wonder for my finger to heal until today evening ;-) can't wait to hit the strings.

Thank you so much PastFx, you and your service are awesome!!

Much love from Munich
Philipp
The best pedal I've ever bought, many thanks capz
Fantastic pedal and awesome seller, thanks for a great eBay experience. scottyblimp
Amazing pedal, great sound and quality! A++++!! stareater
Excellent pedal but beyond that this is the best service I have ever received from an internet seller. Cannot recommend enough. Pierrez
I'm happy with this pedal, thank you. younjoonhee