Hot for Flanger
Now Available!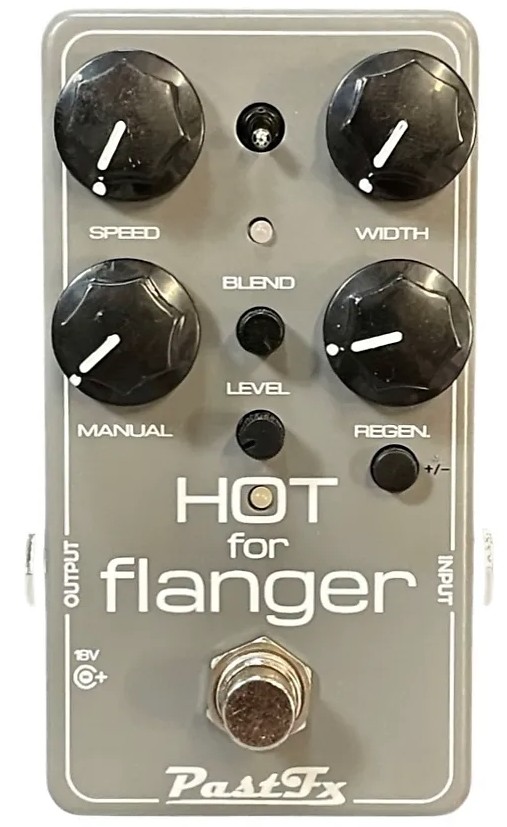 PastFx Hot for Flanger is our take on of the 1970's MXR 117 Flanger with extra features.
Features:
True Bypass

NOS Panasonic MN3007 BBD

Blend, Level, Regen,Width, Speed, Manual controls

New +/- Positive / Negative feedback switch

"Waldo" Clock capacitance timing switch

Blend control allows dialing back the wet modulated signal for a more subtle effect

RED/BLUE coloured LFO rate LED. (Stock setting is Red) Blue allows for higher clock range

Level control fully CCW = Stock

operates off 18VDC (Neg Tip) like original and much smaller form factor. (45mA current draw)
* PLEASE NOTE: This pedal will not turn you into EVH!
Due to tolerance of drilling variances, the on off LED within the "O" in Hot may not always perfectly align within!
---
AS WE ARE ALWAYS LOOKING FOR WAYS TO IMPROVE OUR PRODUCTS, PRODUCT SPECIFICATIONS ARE SUBJECT TO CHANGE WITHOUT NOTICE.
---
---
Big Thanks to Scruffie for his assistance in this project.
Without his input, this pedal would not had come into fruition :)